Nitrous Oxide Sedation
Dental anxiety is both very real and very common. Sometimes fear keeps people out of the dental chair for years, leaving them with poor oral health. Dr. Azarbal, our experienced dentist, is sympathetic to patients with dental anxiety and wants to help. One method he uses is nitrous oxide.
"The best dental experience I ever had. Dr. Azarbal put my nerves at ease. A little nitrous courage and my experience was painless. It's a small office and you have your own private room. Awesome!" ~Shantra D.

What is Nitrous Oxide?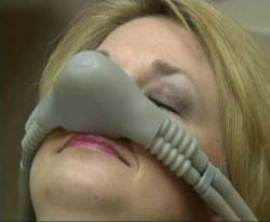 Also known as laughing gas, nitrous oxide is a sedative gas. It helps relieve any stress you feel during dental procedures. Once your dental work is completed, you will be given oxygen to clear your head. The effects of nitrous oxide generally wear off fast, and you'll be functioning normally and will even be able to drive yourself home from your appointment or return to work. Properly administered nitrous oxide is safe and effective.

Nitrous Oxide and Local Anesthetic
We sometimes have patients say they are highly resistant to local anesthetic. What they don't realize is the stress from dental anxiety can cause local anesthetic to wear off and be less effective. If this has happened to you in the past, generally a little nitrous oxide will relax you enough that the local anesthetic is able to do its job.
If you don't think nitrous oxide will be strong enough for you, we are able to do a stronger I.V. sedation. You may learn more about that by visiting our sedation dentistry page. Your comfort is important to us. If you have dental anxiety, we can help. You may call our office to make an appointment, or you may click on this link to request an appointment online.