Pasadena Cosmetic Dentist
Dr. Arash Azarbal has an artistic approach to designing a smile for you. His training in cosmetic dentistry and his use of the latest dental technology allow him to design a smile that matches your personality, preferences, and facial features. A smile makeover from Dr. Azarbal is customized, and it comes with a beautiful smile assurance.

Cosmetic Dentistry Training
Dr. Azarbal is committed to dental aesthetics. He completed aesthetic continua at the UCLA School of Dentistry and the Eubank Institute for Advanced Clinical Education. Every year he spends over 100 hours in continuing education to improve his skills in cosmetic dentistry. From teeth whitening to porcelain veneers and dental implants, Dr. Azarbal has the training and experience to give you beautiful results.

Technology for Beautiful Cosmetic Dentistry
Dr. Azarbal has the latest dental technology in his office to make your smile beautiful. He takes digital x-rays and uses an intraoral camera to produce three-dimensional images of your teeth. Dr. Azarbal uses CEREC® technology to restore a tooth with a beautiful porcelain crown in just one visit. The technology that Dr. Azarbal has at hand enables him to provide you with customized restorations that look completely natural.


Cosmetic Dentistry with a Beautiful Smile Assurance
When you decide that you want to transform your smile, Dr. Azarbal will listen as you describe the details of what you want. He will ask questions to ensure that he thoroughly understands your preferences. You will also see before-and-after pictures of smile makeovers from Dr. Azarbal. They will help you decide what you do and don't want in your new smile, and they will give you confidence in Dr. Azabal's ability to give you a beautiful smile makeover.
Dr. Azarbal assures that you will love your smile makeover. For example, if you decide that you want porcelain veneers, through each phase of the process he involves you and ensures that you are delighted with the results before he proceeds to the next step. Learn more on his beautiful smile assurance page.
Some patients who were disappointed with dental work they received from another dentist have come to Dr. Azarbal to transform their smile.
In the photos below, the patient had all-porcelain restorations on all of her upper teeth and on her lower front teeth. Notice the natural sparkle that Dr. Azarbal and his master ceramist have created in her smile. The results are beautiful.
Before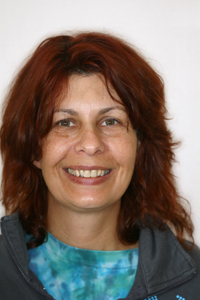 After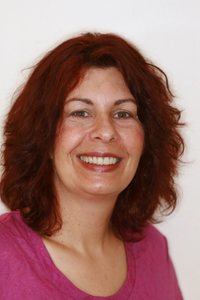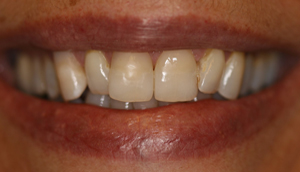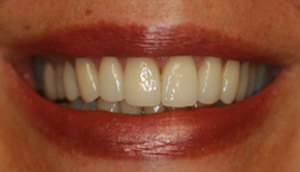 If you are interested in beautifully enhancing your smile and would like to know your options, call us to schedule an appointment, or request an appointment online.