Porcelain Dental Crowns
Many people think that a tooth that is badly broken down or decayed must be extracted. But often it is possible to save the tooth and beautifully restore it with a porcelain crown.

What Is a Porcelain Crown?
A porcelain crown is often referred to as a "cap." A crown covers the entire tooth from the biting surface to the gumline.

Can Porcelain Crowns Look Natural?
Originally, porcelain crowns were only fused to a metal foundation to give them strength. But with time, the metal foundation will show through your gumline as a dark line. Improvements in dental technology have produced durable, metal-free porcelain crowns.
Porcelain can be made to match the color and translucency of natural teeth. It can also be sculpted to match the characteristics of your teeth. Our dentist uses premium e-Max® all-ceramic crowns. e-Max crowns are made from top-grade ceramic that is lifelike in color and translucency, yet very strong and durable. The results with e-Max are highly aesthetic.

A CEREC® Porcelain Crown in One Visit
If you need an immediate tooth restoration, Dr. Azarbal uses CEREC® technology, which enables him to provide you with a porcelain crown in one visit. Digital impressions of your teeth are made, and his in-office CEREC® milling machine will produce a beautiful porcelain crown in minutes. Learn more on our CEREC crowns web page.

Porcelain Crown Advantages
Light can pass through them, so the color and translucency can be manipulated to match your natural teeth.
They are strong and durable.
Unlike porcelain-fused-to-metal crowns, an all-porcelain crown does not contain metal that will show throw as a dark line beneath your gumline.
Crowns with a metal foundation can cause sensitivity to heat and cold. All-porcelain crowns insulate your tooth against temperature changes.

Why Choose Porcelain Crowns from a Cosmetic Dentist?
In the Before photo below, you can see a porcelain bridge on the patient's four upper front teeth. The crowns look bulky, opaque, and are rounder than his natural teeth. Dr. Azarbal replaced the bridge to give the patient a better fit, and the new porcelain crowns beautifully match the shape, color, and translucency of his natural teeth.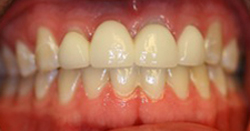 Before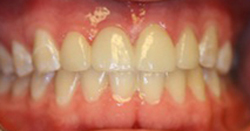 After
Dr. Azarbal participates in over 100 hours of training each year so that he can provide you with aesthetically pleasing dental restorations. He is also an adjunct faculty member of the Herman Ostrow School of Dentistry of USC, where he teaches others how to make dental restorations as lifelike as possible. It is the skill and artistic eye of a cosmetic dentist like Dr. Azarbal that produce results similar to what you see pictured above—a beautiful, complimentary match to your natural teeth.

If you're interested in having your teeth beautifully restored, contact us to schedule an appointment. If you want to spend five or ten minutes with Dr. Azarbal to discuss your options, request a complimentary consultation. Call us or request an appointment online.