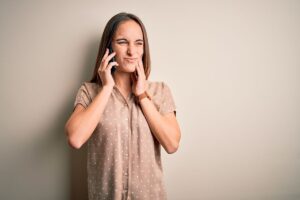 If you are in pain or have a dental emergency, call our office. We will see you today, even if you've never been to our office before. But you need to call during office hours, which are Monday, Tuesday, Thursday, and Friday, 9 am to 6 pm, and alternating Saturdays, 9 am to 4 pm.
Emergency dentistry is a priority for us, and we leave room in our schedule for problems like yours.
When you feel pain, your body is alerting you to a problem. A toothache can let you know that an infection may be developing. If left untreated, the pain may go away; however, this can mean an abscess is forming and the infection is spreading.
"I've never had any complaints. They are always willing to see me if I've had an emergency. I never look forward to going to the dentist, but Dr. Azarbal makes it as pleasant as possible."
It's Easier Than You Think
For a variety of reasons, many people wait too long to seek treatment for dental emergencies. Some haven't been to the dentist in a long time and are ashamed and worried about the expense. Many have had painful experiences in the past that have kept them from receiving proper dental care.
At Pasadena Dental Aesthetics, our first priority is taking care of your problem, no matter what it is or how long it has gone untreated. It's our job to help you feel better, not make you feel guilty. If you are worried about the expense, please click here to see our Affordable Dentistry page for information on how we will work with you to manage the care you need.
Pain-Free Emergency Dentistry
Our practice also offers a number of options for managing pain and anxiety associated with dental treatment. We are experienced in the use of sedation dentistry techniques like oral sedation and nitrous oxide (laughing gas) to help patients feel more at ease. Many patients who have had trouble getting numb for dental treatment find that with a little nitrous oxide, they are relaxed and completely numb through the entire procedure. And the nice thing about nitrous oxide is that it wears off immediately at the end of the appointment so you can drive yourself home or go back to work if you need to.
Dr. Azarbal and his patient and caring staff not only accommodated my schedule but provided me with the absolute best dental work I have ever had. I came in on an emergency basis, knowing nothing about him and the type of work and care he provides his patients. He waited for me after hours, allieviated the extreme pain I was experiencing and set me up with an appointment the following day for a root canal with his excellent endodontist, Dr. Mansouri. The proceedure was painless and done with such care that I scheduled another root canal I had been putting off for a year immediately. Dr. Azarbal's strong work ethic and desire to achieve perfection is evident through the beautiful, pain-free smile he has created. It is also important to note that I was always his last patient of the day, and after a day full of proceedures that I am sure were tiring one would never know as both the process and the results were testiment to the quality of his work and committment to his patients.

Rachel Raymond

August 01, 2012

12345
Don't go on in pain any longer. Dr. Azarbal can help you. Give us a call right away.