A tooth that is badly broken down or damaged can be beautifully restored in just one appointment. Our Pasadena cosmetic dentist, Dr. Arash Azarbal, will make a customized CEREC® crown for you in minutes. You will leave his office with a natural-looking restoration that will enhance your smile.
What Is a CEREC® Crown?
A dental crown is commonly referred to as a "cap." A CEREC crown is an all-porcelain restoration that protects a damaged tooth, beautifully matches your natural teeth, and is completed in one appointment. A CAD-CAM milling machine is used to create and "print" a customized crown just for you, designed to fit comfortably and securely over your existing, prepared tooth to strengthen, repair, and restore your smile. Since the crown can be created in the office rather than in an off-site lab, you can receive your treatment faster than ever before.
CEREC® Crowns Vs. Traditional Lab Crowns
Both traditional lab-made and CEREC-designed crowns have their share of benefits; however, CEREC offers a number of advantages. The right approach for you will depend on your unique needs and goals, and Dr. Azarbal will review all of your options during your initial appointment. Some of the factors to consider when choosing between traditional lab crowns and CEREC crowns include:
The metal from a porcelain-fused-to-metal crown will eventually show through as a dark line at your gumline, but an all-porcelain crown will remain natural looking.
Traditional lab crowns can take up to two weeks or longer to return from the lab, during which you will have a temporary crown in place.
CEREC allows for more conservative tooth preparation compared with lab crowns.
Traditional crowns typically require two visits to complete the procedure.
CEREC uses state-of-the-art 3D digital imaging technology rather than dental impressions to achieve a precise fit that lasts, enhancing patient comfort from prep to completion.
What Is the CEREC® Same Day Crown Process Like?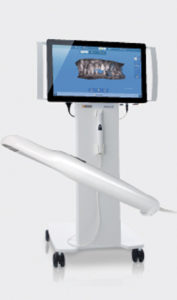 A small, intraoral camera with CAD-CAM (computer-aided design, computer-aided manufacturing) technology is used to make a three-dimensional model of your teeth. The model is used to make a customized crown.
The digital image is used by a CEREC milling machine in our office to craft a crown from a small block of porcelain. You can relax for about twenty minutes while your crown is being made. It will precisely fit over your damaged tooth and beautifully match the characteristics, color, and translucency of your natural teeth.
Preparing Your Tooth for a CEREC® Crown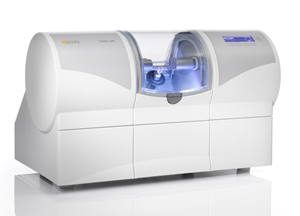 The size of your natural tooth is reduced to accommodate the crown. We will numb the tooth and the area around it before we gently remove any decay and shave down the tooth. After your tooth is cleaned, dental bonding will be applied to it, and the crown will be secured.
How Long Does a CEREC® Crown Last?
If you take good care of it, it can last ten to twenty years or more. Debris and bacteria can form around a crown just as with a natural tooth, so you must be diligent in brushing and flossing around it. And the crown will withstand any normal chewing. However, if you clench or grind your teeth, let us know. We will offer suggestions to help alleviate the wear on your crown and teeth that result from clenching or grinding.
CEREC® Crowns
How Much Does a CEREC® Crown Cost?
The price of CEREC crown treatment will depend on the complexity of your treatment plan, the type of material used, and any supplemental techniques (such as sedation dentistry) that you may wish to include. We will review the full cost of your program with you before beginning, so that you can make an informed decision about your care. Many dental insurance policies include partial or full coverage for crowns, which may include CEREC restorations. We recommend speaking with our treatment coordinator to assist you in confirming your benefits. We also work with reputable lenders if you would like to consider dental financing for your procedure.
CEREC® Crowns from Dr. Azarbal – What to Expect
Each year Dr. Azarbal participates in over 100 hours of continuing education to ensure that he consistently delivers aesthetically pleasing cosmetic dentistry. His training in CEREC® technology is ongoing and enables him to use the best techniques to beautifully restore your tooth with a crown that will last.
Your experience will be similar to one of Dr. Azarbal's patients who commented, "Dr. Azarbal's work is great functionally, but it also looks great. He did an excellent job matching the color with my natural teeth. The crowns look like my real teeth! Dr. Azarbal is approachable, he listens to your needs, and he is not pushy."
If you are interested in finding out if you are a candidate for this treatment, call us to schedule an appointment, or request an appointment online. If you want to spend five or ten minutes with Dr. Azarbal to discuss your options before you receive an exam, request a complimentary consultation.