What Are Dental Implants?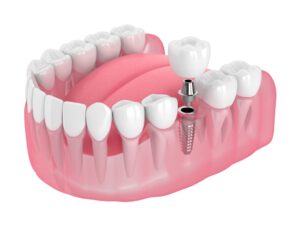 Dental implants placed by Dr. Arash Azarbal can be the ideal solution for patients with missing teeth. Unlike dentures or dental bridges, implants are surgically anchored in the jaw and function just like natural teeth. A dental implant consists of two basic parts: a titanium root form that is surgically implanted and a porcelain crown that is placed over it. When done by a skilled cosmetic dentist like Dr. Azarbal, it's difficult to tell a dental implant crown from a real tooth. By using dental implants, patients can avoid some of the major problems associated with dentures, including slippage, chewing difficulties, and eventual loss of facial bone due to resorption.
The process of getting a dental implant involves two separate visits. First, the implant must be inserted into the jaw by an oral surgeon. After the implant has had time to bond with the surrounding bone—a process known as osseointegration—Dr. Azarbal will place the custom-designed replacement tooth at a subsequent visit.
Advantages of Dental Implants
Dental implants look, feel, and function like your own natural teeth. The titanium root fuses to the surrounding bone over time, creating a durable root for the substitute tooth.
They require no preparation of adjacent teeth. With a traditional dental bridge, the adjacent teeth must be prepared for crowns, with the false tooth of the bridge suspended between them. With implants, the surrounding teeth, if healthy, are left untouched.
For patients who are missing all of their teeth, they provide several advantages over removable dentures. Implants preserve normal chewing function. Studies have shown that patients with removable dentures suffer a loss of 20 percent or more chewing capacity.
Dental implants also prevent the bone loss associated with tooth extraction and long-term denture use. When teeth are extracted, the body senses that jaw support there is no longer necessary and begins to reabsorb the calcium for use in other areas. In patients who have lost all of their teeth, this can result in facial collapse and difficulty wearing dentures in the future. Because a dental implant maintains a root form in the bone, it remains strong and functional.
Who Is a Good Candidate for Dental Implants?
Dental implants are considered the "gold standard" replacement technique for missing teeth, and many individuals can benefit from this approach. That said, it's not right for everyone. Generally speaking, you should be in good overall health, have sufficient bone structure to hold the implants, and be a nonsmoker. Even if you do not meet all three of these criteria, dental implants may still be an option. Dr. Azarbal can let you know after an evaluation if this method will be suitable for your needs and goals.
Are Dental Implants Safe?
All surgical procedures carry some risk, and the best way to mitigate these possibilities is to choose an extensively trained and patient-focused dental practice. At Pasadena Dental Aesthetics, we utilize the most advanced techniques and technology to ensure you experience the safest treatment possible. Your medical and dental history, as well as your oral health and anatomical structures, are carefully evaluated to determine if you're a good candidate for the procedure. We discuss every aspect of the treatment plan so you can be well-informed about all of your options and what to expect at each stage. We welcome your questions and our team is happy to provide answers so you can feel comfortable and confident in your operation.
What Is the Dental Implant Process Like?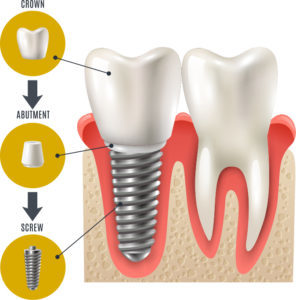 The first step in the dental implant process is an oral evaluation. Dr. Azarbal will check your gums and oral structures to see if dental implants are the ideal choice for you. From there, a detailed image of your mouth will be designed and used as a guide on how and where to place the titanium posts for the best result. Dr. Azarbal works closely with the oral surgeon, who will place the implant(s) based on the treatment plan developed by Dr. Azarbal. These implants are anchored into the jawbone, and after about three to six months of healing should fuse with the surrounding bone. During the healing period, you will be outfitted with temporary teeth, so you will never be without your smile. If necessary, we offer sedation dentistry techniques to make this procedure as comfortable and anxiety-free as possible.
When the titanium posts have fused with your jawbone, the permanent dental crowns will be affixed to the implants. These crowns are color-matched to blend in with your natural teeth so that they are indistinguishable from your other teeth.
What Are the Different Types of Dental Implants?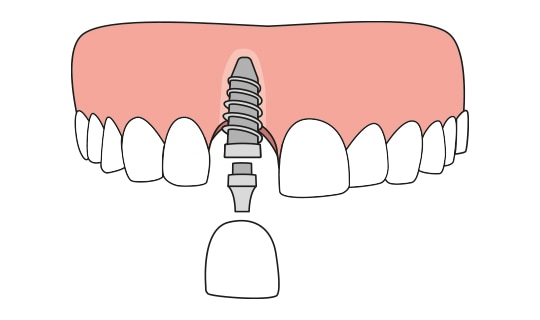 Single-Tooth Dental Implants
For individuals who only need to address one tooth, a single dental implant is often the best option. Even a single missing tooth can cause negative functional, oral health, and aesthetic effects. Just one dental implant can make a world of difference!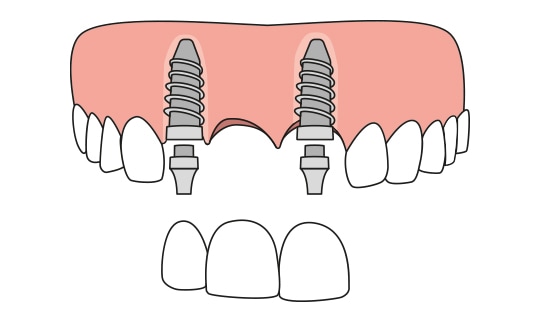 Implant-Supported Fixed Bridges
Fixed bridges can be supported by implants to replace one tooth or multiple teeth in the same
row. Bridges traditionally are used to fill the gap left in the dentin by missing teeth. For an implant-supported bridge, the replacement porcelain crowns that replace the missing teeth are supported by dental implants on either side of the gap, essentially creating a strong "bridge" that fills the space with teeth designed to look and feel
natural.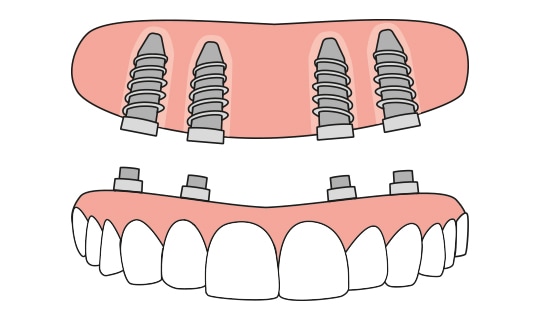 Implant-Supported Dentures
Implant-supported dentures combine the proven success of custom dentures with advanced implant techniques. This dental appliance can often be ideal for those looking to replace full rows of missing teeth. With a relatively small number of dental implants to securely anchor a custom denture, implant-supported denture options such as All-On-4® can enhance overall stability and prevent slippage along the gumline without excessive reliance on denture putties and pastes.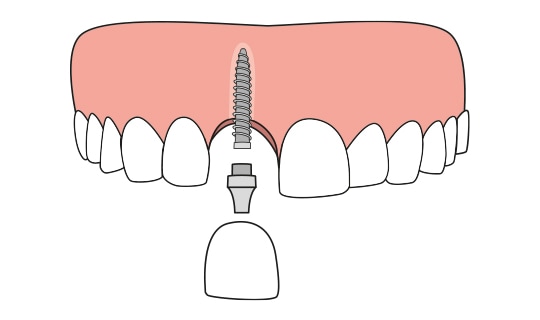 Mini Dental Implants
For patients who are not ideal candidates for full dental implants, mini dental implants (MDIs) may be an alternative option. Mini dental implants are smaller than traditional dental implants and the surgical procedure to place them is not quite as extensive.
How Long Do Dental Implants Last?
One of the many benefits of dental implants is how they are designed to last for the life of your smile. With excellent oral care, including regular brushing, flossing, and dental checkups, your dental implants should not require any retreatment or replacement. If you experience a chip, crack, or another form of damage to a dental crown, contact us right away to address the concern.
Do Dental Implants Hurt?
Our goal is to provide the most comfortable and efficient experience possible, and most patients report little to no pain. You will be given a local anesthetic to minimize discomfort, and over-the-counter pain relievers can be used during the healing process, if desired. Anxiety is a common issue, and if you experience dental phobia, we can provide sedation dentistry options.
What Is the Dental Implant Recovery Process Like?
The recovery process can vary among patients depending on their individual response to treatment, the number of dental implants placed, the location of the implants, and other factors. Some swelling and bleeding around the implants can be expected for a brief period after the procedure; however, any minor discomfort can often be well-managed with medication. Patients will be provided with detailed instructions regarding any temporary dietary restrictions that may be necessary following the treatment, as well as guidance on maintaining proper oral hygiene routines as the treatment areas heal.
How Much Do Dental Implants Cost?
The price of dental implants will depend on your individual treatment plan. Implants can cost between $1,500 and $2,500 per post, so the number of implants you use, the complexity of your treatment, and other considerations will be used to estimate the total cost of the procedure. We will provide a detailed breakdown of the expected fees so you are aware of what to expect. We work with several reputable dental financing agencies that can help bring the cost of dental implants into your budget should you like to consider a payment plan.
What Affordable Dental Implant Options Are There? 
Dental implants are the most effective and natural-looking way to replace missing teeth, but for many people, implants are not within their budget. Affordable dental implants are an effective alternative in securing your dentures. An implant mimics the structure of a natural tooth. Implants are surgically placed into your jawbone. After they heal, your dentures are secured to them.
Mini Implants
Mini dental implants are ⅓ the diameter of standard implants, and they will save you approximately half the cost. Although your dentures won't have the same stability as with standard implants, they will be much more stable than complete removable dentures. The surgery and healing time are faster than standard implants. Your dentures can be secured with as few as two mini implants, but the more implants you have, the more stable your dentures will be. 
Snap-On Dentures
Snap-on dentures are an affordable option because only two standard implants are used to secure them, instead of the usual four to eight. After the implants are placed and your jawbone fuses to them, the dentures are snapped onto them.
What Are the Benefits of Affordable Dental Implants?
When your dentures are stabilized it is easier for you to speak and eat with them. They also give you more confidence, because you won't have to worry about them slipping around or falling out. The presence of the implants helps prevent jawbone shrinkage and facial collapse.
Additionally, when dentures rest directly on your jawbone, the shrinkage is accelerated. Implant-supported dentures relieve this pressure. 
Be Selective
There is a difference between cheap dental implants and affordable dental implants, and it is important to be mindful of that difference. Making treatment affordable involves using quality materials and techniques in a cost-effective manner. Cheap dental implants involve using substandard materials and cutting corners in technique. 
Quality dental implant placement can require three-dimensional CT scans to ensure that the implants don't puncture your sinuses, impinge nerves, or interfere with adjacent teeth and your bone structure. Your medical history must be carefully reviewed to determine whether or not you are a candidate for dental implants. 
Quality implant fixtures must be used and shortcuts must be avoided. Otherwise, the implants can loosen or be incorrectly placed, infection can occur, and the implants will need to be removed and replaced. 
If you are interested in receiving affordable dental implants of the highest quality, call us to request an appointment, or request an appointment online. 
What Are the Alternatives to Dental Implants?
If dental implants do not suit your needs for one reason or another, you still have a selection of options to consider to replace missing teeth. If you are missing one or more teeth in a row, a dental bridge is a common and popular way to restore your smile. Implant-supported dentures can be an excellent alternative to a full set of dental implants in the case of significant tooth loss, including a full arch or both arches. Implant dentures, including All-on-4®, use four to six implants to secure a denture in place, reducing friction, improving fit, and increasing function compared with traditional removable dentures. We also offer mini dental implants, which require a shorter, less complex surgical approach than standard implants. If you would like to consider a substitute to a full set of dental implants, we will provide an overview of your choices at your initial consultation.
Why Choose Pasadena Dental Aesthetics for Your Dental Implants
Dr. Azarbal utilizes advanced technology and a meticulously detailed treatment plan for dental implant procedures. He also collaborates with an experienced team of implant providers who understand the importance of customized care designed to produce results that look, feel, and function in a way that makes them virtually indistinguishable from natural teeth. We are dedicated to providing exceptional results and delivering personalized, compassionate care. Pasadena Dental Aesthetics wants you to feel comfortable in our hands and confident in your treatment, and we will make every effort to make your experience second-to-none.
Everyone here is amazing. I have always had a fear of a dentist, but coming here has made me so comfortable and at ease. Highly recommended!"
Additional Frequently Asked Questions About Dental Implants
Protecting and preserving your smile is a big decision, and we want you to have all the information you need to make the right choice for you. With this goal in mind, Dr. Azarbal has provided answers to some commonly asked questions about dental implants. To learn more, simply reach out to our office to schedule a consultation.
Are dental implants covered by insurance?
Every patient's dental insurance policy is unique, and we recommend either speaking with your representative or contacting our office to have one of our team members check your benefits with your insurance company to determine if dental implants are included in your benefits package. Most insurances do not yet include coverage for implants. We can help you find financing, if desired, through reputable lenders.
Do dental implants look natural?
One of the many benefits of dental implants is the natural appearance they can provide. When created by a skilled dentist, the dental crowns that top the abutments can look just like natural teeth, giving you a smile you can wear confidently.
How do I clean dental implants?
Dental implants are typically low maintenance. You can clean individual implants by brushing and flossing daily, and seeing your dentist for regular checkups. Implant-supported dentures have different requirements for care, and we can discuss those during your visit if you elect to have that treatment.
How long does it take to get dental implants?
The dental implant process can take two or three visits to complete, sometimes more, depending on your individual needs. The first step is identifying the ideal locations to place the implants, then implanting the titanium posts and providing temporary crowns, and finally adding the permanent crowns. Once the implants are placed, your jawbone will need to heal and integrate with the implants over the course of several months. During this period you will have some dietary restrictions to optimize your outcome.
Does smoking affect dental implants?
Smoking and tobacco use can have a significant negative impact on your oral and whole health. Gum infections and disease can cause implants to loosen or fit less securely, causing problems down the line. We strongly urge patients to try and quit tobacco for the sake of their smiles.
What can I eat with dental implants?
While a relatively soft-food diet will likely be recommended for the first few days and weeks after implant placement, there are typically no long-term dietary restrictions required with dental implants. With that in mind, it is necessary to continue maintaining excellent oral hygiene and to take care when biting down on particularly hard foods to reduce the potential for damaging the crowns attached to the implants.
Are dental implants permanent?
Dental implants can produce lifelong results when they are properly cared for and when patients ensure they are brushing and flossing daily, as well as attending the recommended amount of dental check-ups each year.
Will I need a bone graft with my dental implants?
Bone grafting treatment may be required for patients with insufficient jawbone density. Many patients will not need this procedure; however, for some individuals, a bone grafting treatment can make them eligible for dental implants if they do not currently have adequate bone density to accommodate the implant. The procedure essentially enhances bone strength in the area of the missing tooth, increasing the chance that an implant can be successfully held in place. Dr. Azarbal can determine whether bone grafting is advisable once the initial oral evaluation has been performed.
How do I choose the right dentist for dental implants?
Choosing the right dentist for dental implants will be crucial for the success of the procedure. Evaluating your dentist's biography and experience with these procedures, viewing before-and-after photos, reading patient reviews, and talking with the dentist in-person can give you a general idea of their rate of success and overall approach to care.
If you would like to know if you are a candidate for this treatment, call us to schedule an appointment, or request an appointment online.