"There is no moment more exciting than when a patient's new smile is revealed (even in the beginning of a smile makeover) and the patient gets a glimpse of how he or she will look."
Cosmetic Dentist in Pasadena – Dr. Arash Azarbal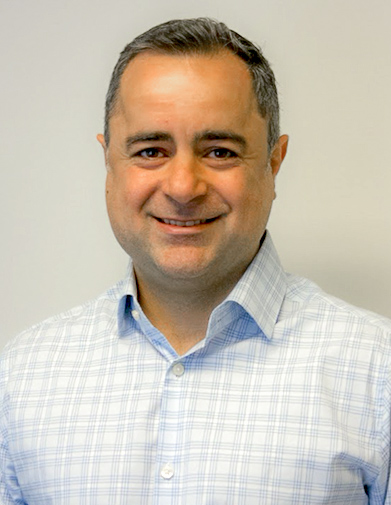 Dr. Arash Azarbal has an artistic approach to designing a smile for you. His training in cosmetic dentistry and his use of the latest dental technology allow him to design a smile that matches your personality, preferences, and facial features. A smile makeover from Dr. Azarbal is customized to ensure a beautiful, personalized outcome.
Background
Dr. Arash Azarbal received his degree as a Doctor of Dental Surgery (DDS) from the Herman Ostrow School of Dentistry at the University of Southern California (USC) in 2002 After graduation, he completed his general practice residency with the New York Department of Veterans Affairs. Before attending dental school at USC, Dr. Azarbal completed his undergraduate studies at UCLA and graduated with honors (cum laude) with a Bachelor of Science degree in Psychobiology.
In addition to his general dentistry education, Dr. Azarbal has received advanced certification and training in cosmetic dentistry. He completed the Aesthetics Continuum at the UCLA School of Dentistry, as well as several advanced continua at the Eubank Institute for Smile Design and Advanced Occlusion. Additionally, he completed an Advanced Fixed Prosthodontic Mentorship in Full Mouth Reconstruction. Dr. Azarbal is a certified Level 2 Invisalign® Premier provider. He is an active member of the San Gabriel Valley Dental Society chapter of the California Dental Association. Furthermore, Dr. Azarbal has served as an Adjunct Clinical Assistant Director at the Herman Ostrow School of Dentistry of USC, in the Division of Restorative Sciences. From 2013 to 2015, he was an instructor in Dental Morphology, Function, and Esthetics (DMFE), where he worked under Dr. Pascal Mange, world-renowned professor and one of the fathers of biomimetic dentistry.
Every year, Dr. Azarbal spends numerous hours in continuing education to improve his skills in cosmetic dentistry. From teeth whitening to porcelain veneers to dental implants and full smile makeovers, Dr. Azarbal has the training and experience to give you beautiful results.
Dr. Azarbal is outstanding. I had quite a bit of work done and experienced almost no pain. Not to mention I am constantly getting compliments on my smile. If you need dental work, it is worth the trip Pasadena for a pleasant, professional and better than expected results.

LaShawn Cullins

December 01, 2015

12345
More Reviews
Dr. Azarbal's Dental Care Philosophy
Dr. Azarbal loves the profession of dentistry and is constantly striving to advance his knowledge and training in the dental field. Every year he participates in numerous multi-day continuums that include training in cosmetic and restorative dentistry, as well as orthodontics and sedation.
Dr. Azarbal uses a conservative approach to imitate ideal natural dentition in form, function, and aesthetics using appropriate design and material. When restoring teeth it is important to try to conserve the areas that provide the core structural strength. If that is not possible, then the natural design is imitated using the correct materials with an understanding of how forces act on them. It is therefore extremely important to understand natural morphology and properties, how dental materials and design correlate to them, and how to do it in an aesthetically beautiful manner (as different types of composites and porcelain can have significantly different properties).
Cosmetic and restorative work is particularly satisfying to Dr. Azarbal. He really enjoys restoring and bringing the dentition and the mouth back to health—both aesthetically and in function—and maintaining it there. All in all, Dr. Azarbal is committed to providing patients with state-of-the-art dental care and a compassionate chairside manner to ensure they have the best possible experience at our practice.
In his spare time, Dr. Azarbal enjoys running, and he occasionally runs the Los Angeles marathon. He also enjoys watching sports, particularly baseball and football, and playing golf occasionally.
Education and Training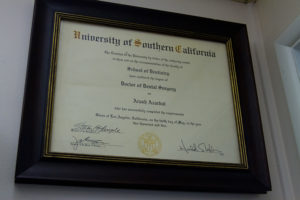 USC Herman Ostrow School of Dentistry – Instructor in Dental Morphology, Function, and Esthetics (DMFE) (2013-2015)
USC Herman Ostrow School of Dentistry – Adjunct Clinical Assistant Director – Division of Restorative Sciences (2013-2015)
Certified Level 2 Invisalign® Provider
Eubank Institute for Smile Design and Advanced Occlusion – Continuing Education
University of California, Los Angeles School of Dentistry – Aesthetics Continuum
New York Department of Veterans Affairs – General Practice Residency
University of Southern California – Herman Ostrow School of Dentistry – DDS
University of California, Los Angeles – Bachelor of Science, Psychobiology, (with honors)
Memberships and Affiliations
Adjunct Faculty at USC Herman Ostrow School of Dentistry
American Dental Association
California Dental Association
San Gabriel Valley Dental Society
Technology for Beautiful Cosmetic Dentistry
Dr. Azarbal has the latest dental technology in his office to make your smile beautiful. He takes digital x-rays and uses an intraoral camera to produce three-dimensional images of your teeth. Dr. Azarbal uses CEREC® technology to restore a tooth with a beautiful porcelain crown in just one visit. The technology that Dr. Azarbal has at hand enables him to provide you with customized restorations that look completely natural.
Cosmetic Dentistry with a Beautiful Smile Outcome
When you decide that you want to transform your smile, Dr. Azarbal will listen as you describe the details of what you want. He will ask questions to ensure that he thoroughly understands your preferences. You will also see before-and-after pictures of smile makeovers from Dr. Azarbal. They will help you decide what you do and don't want in your new smile, and they will give you confidence in Dr. Azarbal's ability to give you a beautiful smile makeover.
Dr. Azarbal uses a methodical, step-by-step process, establishing a partnership with you to ensure that you will love your smile makeover. For example, if you decide that you want porcelain veneers, through each phase of the process Dr. Azarbal involves you and ensures that you are delighted with the results before he proceeds to the next step.
Learn more about the process on our Creating Beautiful Smiles page. Some patients who were disappointed with dental work they received from another dentist have come to Dr. Azarbal to transform their smile.
Porcelain Veneers Before-and-After Photos
In these photos, the patient had all-porcelain restorations on all of her upper teeth and on her lower front teeth. Notice the natural sparkle that Dr. Azarbal and his master ceramist have created in her smile. The results are beautiful.
How to Choose the Best Dentist for Your Needs
With so many options available for dental care, it is important to know what to look for when trying to select the best dentist for your particular needs and goals. As you research prospective dentists in your area, here are a few things to review in order to increase the likelihood that you are placing your trust in the right hands:
Experience, Credentials, and Background
A dentist's background, professional credentials, and overall experience can be a helpful indication of his or her level of skill. The practice's website typically offers biographical information covering these topics, and viewers can often obtain more information by contacting the office they are considering. It is useful to review the dentist's educational history and training, memberships and affiliations, and list of available services.
Patient Reviews and Before-and-After Photos
One of the best ways to obtain a general idea of what the treatment experience may be like at a specific practice is by taking a look at reviews of the dentist from other patients. A prospective dentist's before-and-after photo gallery can also provide an idea of the results that can be achieved. Photo galleries are often available from the practice's website. If not, individuals can ask if there are photos that can be viewed at the office.
Communication Style and Philosophy of Care
Once the initial research has been completed and the list of prospective dentists has been narrowed down, it can be very useful to schedule a consultation so that you can have an in-person meeting with your prospective dentist. This meeting gives you the opportunity to evaluate the dentist's style of communication and ask them questions about their overall philosophy of care. You should not only feel confident in the dentist's ability to effectively meet your expectations, but also in their honesty, thoroughness, and ability to provide attentive and compassionate care. Evaluating your rapport can ultimately help you make the final determination as to whether this particular doctor is the right dentist for your needs.
What Makes Dr. Azarbal a Top Dentist in Pasadena?
One of the many things that makes Dr. Azarbal a Top Dentist in Pasadena is his decades-long record of providing exceptional dental care. Dr. Azarbal has been improving dental health and enhancing smile aesthetics for many years, and is firmly committed to the regular pursuit of continuing dental education to remain abreast of new techniques and treatments that can help patients achieve their goals in the most effective and comfortable way possible. He has also been trained and educated at some of the most respected and prestigious dental institutions in the world. In fact, he is an educator himself, teaching future generations of dentists by serving as an Adjunct Faculty member at USC's Herman Ostrow School of Dentistry.
Dr. Azarbal's long tenure as a practicing dentist, his embrace of state-of-the-art technology and continuing education, and the skills he has honed over decades of transforming patients' smiles are all reasons why he can be considered a Top Dentist in Pasadena—one who is fully dedicated to providing each and every individual with excellent care.
If you are interested in enhancing your smile and would like to know your options, please call us to schedule an appointment, or you can request an appointment via our website.