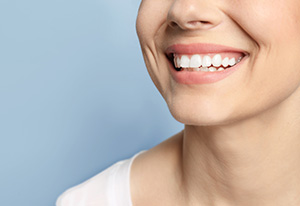 We understand that dental concerns can arise, even among individuals who thoroughly brush and floss daily as part of a regular oral care routine. When cavities, missing teeth, or damage affect your comfort and the appearance of your smile, we can help. Using the latest techniques, Dr. Arash Azarbal and our extensively trained dental team can restore your smile to its original beauty and strength whether your concerns are large or small, common or complex. Our dentist emphasizes conservative, biomimetic approaches that preserve natural structures, and we offer a relaxing atmosphere that can assist with putting anxious patients at ease.
We welcome you to review all of our restorative options by following the links below. If you prefer to learn more about a specific procedure in person, please contact our office to schedule a complimentary consultation with Dr. Azarbal.
Dental Implants
Missing teeth can do more than mar the appearance of your smile; they can disrupt speech and eating, lead to bone loss, and affect your self-confidence. Dental implants offer a state-of-the-art solution with long-lasting and natural-looking results.
Implant-Supported Dentures
Tired of traditional removable dentures that don't fit, irritate your gums, or look less than natural? Our All-on-4® implant-supported dentures offer a secure, comfortable fit and a confidence-enhancing outcome you can be proud to show off.
Mini Dental Implants
Mini dental implants offer another, potentially more affordable option for patients who want to consider dental implants or implant dentures. Less invasive and offering a quicker procedure experience, mini implants may be able to help you restore your smile with great results.
Dentures
Dentures have been a staple of the restorative dentistry field for decades. This treatment option is still a viable and ideal solution for many patients. Dentures can be an effective alternative for replacing just a few teeth or entire dental arches with results that enhance both function and aesthetics.
Dental Bridges
Dental bridges are able to effectively treat missing teeth by filling the gap left behind by one or more teeth in a specific area. Custom-designed artificial teeth are placed in the area of missing teeth and supported by custom dental crowns securely attached to the adjacent natural teeth. This ultimately "bridges the gap" created by missing teeth to improve both form and function. The bridge is color-matched to surrounding teeth to provide a virtually seamless, natural-looking blend.
Dental Crowns
CEREC® Crowns
Dental crowns can be an excellent method for restoring damaged teeth or replacing missing teeth. Our practice can utilize CEREC® crowns for many patients, which is an innovative system that allows our dentist to design, produce, and place custom crowns in a single office visit.
Porcelain Crowns
Porcelain crowns are durable and are matched to the color of your surrounding teeth for the most natural-looking results. With advanced porcelain materials, these dental crowns can protect the health of damaged teeth, reinforce tooth structure, and improve smile aesthetics with longevity and functionality in mind. They can be exceptional restorations for compromised teeth, or they can be used as the final step of a dental implant or root canal procedure.
Full Mouth Reconstruction
If you have significant dental concerns involving multiple teeth, a full mouth reconstruction may be the best approach. This personalized program is tailored to your needs and can include a combination of any of our restorative treatments (and cosmetic treatments, if desired) for more comprehensive improvement.