What Are Dental Implants?
Dental implants placed by Dr. Arash Azarbal can be the ideal solution for patients with missing teeth. Unlike dentures or dental bridges, implants are surgically anchored in the jaw and function just like natural teeth.
With this option, patients avoid some of the major problems associated with dentures, like slippage, chewing difficulties, and eventual loss of bone due to resorption.

How Do Dental Implants Work?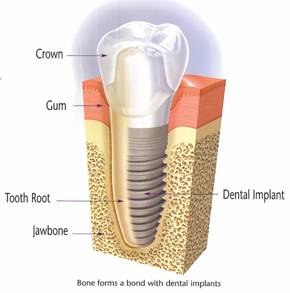 A dental implant consists of two basic parts: a titanium root form that is surgically implanted in the jawbone and a porcelain crown that is placed over it. When done by a skilled cosmetic dentist like Dr. Azarbal, it's difficult to tell a dental implant crown from a real tooth.
The process of getting a dental implant involves two separate visits. First, the implant must be inserted into the jaw by an oral surgeon. At Pasadena Dental Aesthetics, we have an oral surgeon onsite, Dr. Ian Woo, who can do the initial root-form implant. After the implant has had time to bond with the surrounding bone—a process known as osseointegration—Dr. Azarbal will place the custom-designed replacement tooth at a subsequent visit.

Dental Implant Process
The first step in the dental implant process is an oral evaluation. Dr. Azarbal will check your gums and oral structures to see if dental implants are the ideal choice for you. From there, a detailed image of your mouth will be designed and used as a guide on how and where to place the titanium posts for the best result. Dr. Azarbal works closely with Dr. Woo, who will place the implant(s) based on the treatment plan developed by Dr. Azarbal in conjunction with Dr. Woo. These implants are anchored into the jawbone, and after about three to six months of healing should fuse with the surrounding bone. During the healing period, you will be outfitted with temporary teeth, so you will never be without your smile. If necessary, we offer sedation dentistry techniques to make this procedure as comfortable and anxiety-free as possible.
When the titanium posts have fused with your jawbone, the permanent dental crowns will be affixed to the implants. These crowns are color-matched to blend in with your natural teeth so that they are indistinguishable from your other teeth.

Advantages of Dental Implants
Dental implants look, feel, and function like your own natural teeth. The titanium root fuses to the surrounding bone over time, creating a durable root for the substitute tooth.
They require no preparation of adjacent teeth. With a traditional dental bridge, the adjacent teeth must be prepared for crowns, with the false tooth of the bridge suspended between them. With implants, the surrounding teeth, if healthy, are left untouched.
For patients who are missing all of their teeth, they provide several advantages over removable dentures. Implants preserve normal chewing function. Studies have shown that patients with removable dentures suffer a loss of 20 percent or more chewing capacity.
Dental implants also prevent the bone loss associated with tooth extraction and long-term denture use. When teeth are extracted, the body senses that jaw support there is no longer necessary and begins to reabsorb the calcium for use in other areas. In patients who have lost all of their teeth, this can result in facial collapse and difficulty wearing dentures in the future. Because a dental implant maintains a root form in the bone, it remains strong and functional.

Why Choose Pasadena Dental Aesthetics for Your Dental Implants
While other dental offices may refer you to another practice for the oral surgery portion of the procedure, Dr. Azarbal works with an in-house oral surgeon, Dr. Woo, who has been a celebrated member of our team for many years. This allows for close collaboration between Dr. Azarbal and Dr. Woo in designing your treatment plan and throughout your treatment. As a result, you can complete the entire process from start-to-finish at the same dental location. Additionally, our team is dedicated to providing exceptional results and delivering personalized, compassionate care. We want you to feel comfortable in our hands and confident in your treatment, and we will make every effort to make your experience second-to-none.

FAQs (Frequently Asked Questions) About Dental Implants
Protecting and preserving your smile is a big decision, and we want you to have all the information you need to make the right choice for you. With this goal in mind, Dr. Azarbal has provided answers to some commonly asked questions about dental implants. To learn more, simply reach out to our office to schedule a consultation.
Who Is a Good Candidate for Dental Implants?
Dental implants are considered the "gold standard" replacement technique for missing teeth, and many individuals can benefit from this approach. That said, it's not right for everyone. Generally speaking, you should be in good overall health, have sufficient bone structure to hold the implants, and be a nonsmoker. Even if you do not meet all three of these criteria, dental implants may still be an option. Dr. Azarbal can let you know after an evaluation if this method will be suitable for your needs and goals.
Will the Procedure Hurt?
Our goal is to provide the most comfortable and efficient experience possible, and most patients report little to no pain. You will be given a local anesthetic to minimize discomfort, and over-the-counter pain relievers can be used during the healing process, if desired. Anxiety is a common issue, and if you experience dental phobia, we can provide sedation options.
How Much Do Dental Implants Cost?
The price of dental implants will depend on your individual treatment plan. Implants can cost between $1,500 and $2,500 per post, so the number of implants you use, the complexity of your treatment, and other considerations will be used to estimate the total cost of the procedure. We will provide a detailed breakdown of the expected fees so you are aware of what to expect. We work with several reputable dental financing agencies that can help bring the cost of dental implants into your budget should you like to consider a payment plan.
How Long Do Dental Implants Last?
One of the many benefits of dental implants is how they are designed to last for the life of your smile. With excellent oral care, including regular brushing and flossing and dental checkups, your dental implants should not require any retreatment.
If you would like to know if you are a candidate for this treatment, call us to schedule an appointment, or request an appointment online.