Porcelain Veneers
Porcelain and composite (chairside) veneers from Dr. Arash Azarbal can give you a stunning smile makeover without the time commitment or appearance of traditional braces. Follow the links below to learn more about veneers, or contact us today to schedule a consultation.

What Are Porcelain Veneers?
Porcelain veneers are thin slices of porcelain bonded to individual teeth to create a smile makeover. Veneers can be used to treat a variety of cosmetic dental issues. Dr. Azarbal is a skilled cosmetic dentist who makes veneers that can perfectly match the color profile and shape of your surrounding teeth. They can be carefully sculpted to even the shape of teeth; fill in chips, cracks, or gaps; correct discoloration; and create an overall pleasant appearance.
Below are before-and-after pictures of a smile makeover with porcelain veneers that Dr. Azarbal completed. Dr. Azarbal used porcelain veneers to reduce spaces between this patient's teeth. The veneers replaced old bonding/veneers on the upper front four teeth for a natural, aesthetic gap reduction.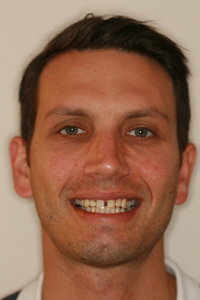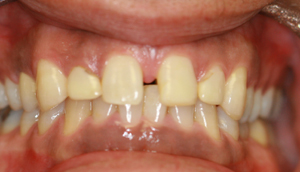 Before Porcelain Veneers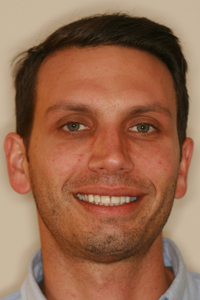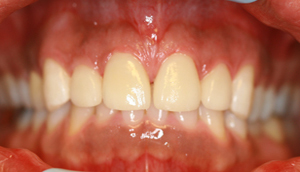 After Porcelain Veneers

Composite (Chairside) Veneers
A more conservative approach, composite veneers can enhance the look of your teeth with less turnaround time than porcelain veneers. Also called chairside or prep-less veneers, this technique offers many benefits for the ideal candidate. Although not appropriate for everyone, composite veneers can address mild to moderate dental concerns in one visit, including staining, small gaps and cracks, and chips. Composite veneers are also typically more cost-effective than porcelain; however, they last for a shorter period of time. During your initial consultation with Dr. Azarbal, he can help you determine if composite or porcelain veneers will optimize your outcome based on your needs and goals.
If you have deep tooth staining from the use of tetracycline, veneers (porcelain or composite) offer the best chance for having completely white teeth.

Beautiful Veneers Require Expertise
Though many dentists offer composite and porcelain veneers, it is very important that you choose one with the additional training and artistic perspective necessary to give you a beautiful smile makeover. Cosmetic procedures like this one are not taught in dental school and, in order to do them well, dentists must invest in a significant amount of additional training and proper equipment to give you a personalized smile design. Dr. Azarbal has made the investment. He received training from the UCLA School of Dentistry Aesthetic Continuum, and participated in Smile Design and Advanced Occlusion courses at the Eubanks Teaching Institute. He was also an adjunct professor in the USC School of Dentistry Restorative Department, specifically in DMFE (Dental Morphology Function and Esthetics) from 2013 through 2015.
The Best Dentist. Calmed my years of dentistry phobia and gave me a complete set of veneers top and bottom. He's an artist of his craft as well as attending to his clients with great care, compassion, and calmness.

Monica Mayall

November 09, 2015

12345
Dr. Azarbal will discuss your goals for your smile makeover. How do you want it to look? Do you have a preference for the shape and color of your new smile? Dr. Azarbal will also offer suggestions on smile design and address any concerns you have.
Dr. Azarbal will prepare your teeth for veneers by shaving off a very thin layer of enamel (about the width of a fingernail) from the front of each tooth that will receive a veneer. He will carefully shape each tooth. You will be shown a computer-generated simulation of your teeth, as well as a wax-up model, of them as a preview of how your new smile will look. If you want any changes made, Dr. Azarbal can make those modifications. If you are having porcelain veneers placed, impressions of your teeth will be sent to Dr. Azarbal's master ceramist who will craft the veneers. He will give very subtle and detailed color instructions to the ceramist to ensure the veneers will have a natural appearance and aesthetics.
While your porcelain veneers are being made, you will have temporary veneers placed based on models of the final result. This way you will have a preview of your final outcome, and you can evaluate your porcelain veneers for a few days to determine if you may want any shape or color modifications.
The ceramist will use the impressions, together with Dr. Azarbal's detailed color instructions, to create beautiful porcelain veneers for you.
The custom veneers are temporarily applied to the teeth, and checked to ensure they achieve the appearance you want. You will take a look at your temporary smile, and if you have any hesitations about it, Dr. Azarbal will have adjustments made to your veneers, or have them completely re-done. When you are thrilled with the look of your smile makeover, the veneers will be permanently bonded to your teeth.
Learn More About Porcelain Dental Veneers
Still curious if porcelain veneers might be right for you? Dr. Azarbal has provided answers to a number of frequently asked questions (FAQs) about this popular cosmetic technique. If you would like to know more, we encourage you to schedule a consultation today.
Who is a good candidate for porcelain veneers?
If you have deep staining, chipped or cracked teeth, gaps, crowding, poorly shaped teeth, or a combination of these concerns, dental veneers can often help significantly improve the appearance of your smile. These thin porcelain shells are placed over your existing teeth to create a beautiful and natural-looking result that can also enhance your confidence. You should not have any active oral health conditions, such as gum disease, before getting veneers, and Dr. Azarbal will review your oral health to determine if this technique is optimal for your aesthetic goals.
How do veneers work?
Made from thin porcelain shells, dental veneers can be placed over the outside of your teeth to enhance your smile. A small amount of tooth structure will be removed to ensure your teeth do not appear thick and to ensure the most aesthetically pleasing final result. As an advocate of conservative treatment, Dr. Azarbal will minimize tooth reduction and maintain as much healthy tooth structure as possible. Veneers can be placed on one or more teeth, or all of them, depending on your individual needs and desired outcome.
In some cases, prep-less or chairside veneers may be used. With this technique, the procedure is completed in one appointment, as the veneers are bonded to the teeth with composite. As a result, you will not have to return for a second appointment as you would with traditional porcelain veneers. Not everyone is a candidate for this procedure. Dr. Azarbal will discuss this option with you at your initial consultation if it's appropriate for you.
How long do they last?
Porcelain veneers are tough, strong, and long-lasting. Many patients can enjoy the benefits for decades. Chairside veneers often last a shorter period of time and may need to be replaced after about a few years or so. An important part of getting the most life out of your treatment is proper care and oral hygiene.
What kind of maintenance is required?
Just like your natural teeth, porcelain dental veneers should be brushed twice daily, and flossed once daily. Regular checkups with Dr. Azarbal are highly recommended to address any damage or decay, as you normally would. Healthy gums and excellent oral care will help to ensure your dental veneers last for many years.
Can you whiten veneers?
Porcelain dental veneers resist staining, so teeth whitening should not be necessary. In the event you want a brighter, whiter looking smile, you should have a teeth cleaning from your dentist. Composite veneers can become stained, though not nearly as easily as natural teeth. Again, a professional cleaning can help. If you would like more dramatic whitening, you may wish to have the veneer replaced.
Are there any alternatives?
Depending on your concerns, there may be a number of appealing alternatives to dental veneers. Staining can be minimized with teeth whitening, chips and cracks can be repaired with cosmetic bonding, and gaps and crowding can be improved with Invisalign®. If you have several concerns, a Smile Makeover can help you achieve multiple goals. Regardless of your objectives, our skilled team can develop a customized treatment plan tailored to your needs.
Visit our smile gallery for more examples of Dr. Azarbal's beautiful work with porcelain veneers.