Dr. Arash Azarbal reviews common issues stemming from CPAP machine use in patients with sleep apnea and provides non-surgical alternatives designed to be more comfortable.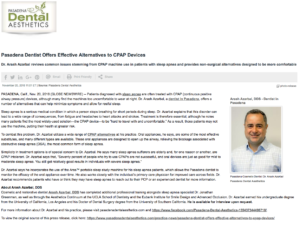 Pasadena, CA — Patients diagnosed with sleep apnea are often treated with CPAP (continuous positive airway pressure) devices, although many find the machines too uncomfortable to wear at night. Dr. Arash Azarbal, a dentist in Pasadena, offers a number of alternatives that can help minimize symptoms and allow for restful sleep.
Sleep apnea is a serious medical condition in which a person stops breathing for short periods during sleep. Dr. Azarbal explains that this disorder can lead to a wide range of consequences, from fatigue and headaches to heart attacks and strokes. Treatment is therefore essential, although he notes many patients find the most widely-used solution—the CPAP device—to be "hard to travel with and uncomfortable." As a result, those patients may not use the machine, putting their health at greater risk.
To combat this problem, Dr. Azarbal utilizes a wide range of CPAP alternatives at his practice. Oral appliances, he says, are some of the most effective substitutes, and many different types are available. These oral appliances are designed to open up the airway, relieving the blockage associated with obstructive sleep apnea (OSA), the most common form of sleep apnea.
Simplicity in treatment options is of special concern to Dr. Azarbal. He says many sleep apnea sufferers are elderly and, for one reason or another, are CPAP intolerant. Dr. Azarbal says that, "Seventy percent of people who try to use CPAPs are not successful, and oral devices are just as good for mild to moderate sleep apnea. You still get relatively good results in individuals with severe sleep apnea."
Dr. Azarbal says he incorporates the use of the Ares™ portable sleep study machine for his sleep apnea patients, which allows the Pasadena dentist to monitor the efficacy of the oral appliance over time. He also works closely with the individual's primary care physician for improved care across fields. Dr. Azarbal recommends patients who have or think they may have sleep apnea to reach out to their PCP or an experienced dentist for more information.
About Arash Azarbal, DDS
Cosmetic and restorative dentist Arash Azarbal, DDS has completed additional professional training alongside sleep apnea specialist Dr. Jonathan Greenman, as well as through the Aesthetics Continuum at the UCLA School of Dentistry and the Eubank Institute for Smile Design and Advanced Occlusion. Dr. Azarbal earned his undergraduate degree from the University of California, Los Angeles and his Doctor of Dental Surgery degree from the University of Southern California. He is available for interview upon request.

For more information about Dr. Azarbal and his practice, please visit pasadenadentalaesthetics.com and https://www.facebook.com/Pasadena-Dental-Aesthetics-155437344496718/.
Contact:
Pasadena
Dental Aesthetics
826 E. Union St.
Pasadena, CA 91101
(855) 768-7333 (New Patients)
(626) 793-4683
Rosemont Media
(858) 200-0044
www.rosemontmedia.com