Dental Implants
Dental implants placed by Dr. Arash Azarbal can be the ideal solution for patients with missing teeth. Unlike dentures or dental bridges, implants are surgically anchored in the jaw and function just like natural teeth.
With this option, patients avoid some of the major problems associated with dentures, like slippage, chewing difficulties, and eventual loss of bone due to resorption.

How Do Dental Implants Work?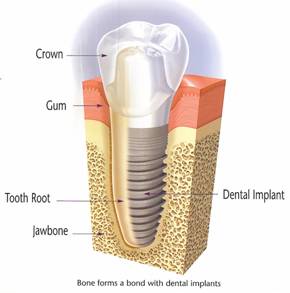 A dental implant consists of two basic parts: a titanium root form that is surgically implanted in the jawbone and a porcelain crown that is placed over it. When done by a skilled cosmetic dentist like Dr. Azarbal, it's difficult to tell a dental implant crown from a real tooth.
The process of getting a dental implant involves two separate visits. First, the implant must be inserted into the jaw by an oral surgeon. At Pasadena Dental Aesthetics, we have an oral surgeon onsite, Dr. Woo, who can do the initial root-form implant. After the implant has had time to bond with the surrounding bone—a process known as oseointegration—Dr. Azarbal will place the custom-designed replacement tooth at a subsequent visit.

Advantages of Dental Implants
Dental implants look, feel, and function like your own natural teeth. The titanium root forms bond to the surrounding bone over time, creating a durable root for the substitute tooth.
They require no preparation of adjacent teeth. With a traditional dental bridge, the adjacent teeth must be prepared for crowns, with the false tooth of the bridge suspended between them. With implants, the surrounding teeth, if healthy, are left untouched.
For patients who are missing all of their teeth, they provide several advantages over removable dentures. Implants preserve normal chewing function. Studies have shown that patients with removable dentures suffer a loss of 20 percent or more chewing capacity.
Dental implants also prevent the bone loss associated with tooth extraction and long-term denture use. When teeth are extracted, the body senses that jaw support there is no longer necessary and begins to reabsorb the calcium for use in other areas. In patients who have lost all of their teeth, this can result in facial collapse and difficulty wearing dentures in the future. Because a dental implant maintains a root form in the bone, it remains strong and functional.
If you would like to know if you are a candidate for this treatment, call us to schedule an appointment, or request an appointment online.