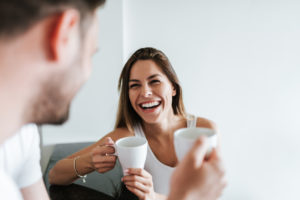 The development of yellow stains and other kinds of discoloration on the teeth is extremely common. Even individuals who have taken extra steps to maintain the best possible care of their teeth for many years will likely experience some degree of yellowness over time. The fact is that the natural aging process, consuming foods and drinks that contain staining agents (coffee, tea, berries, etc.), and lifestyle habits such as tobacco use are all contributors to tooth discoloration; some of these causes can be avoided, but individuals obviously can't help the natural deterioration of tooth color due to aging. Fortunately, Dr. Arash Azarbal and our team here at Pasadena Dental Aesthetics offer effective remedies for tooth discoloration that can make the teeth whiter, brighter, and beautifully refreshed!
Two of the most common treatments for yellow stains on the teeth include:
Teeth Whitening
Professional teeth whitening treatments offer patients a much more effective (and more immediate) way to lighten the shade of their teeth when compared with many over-the-counter whitening options. Our in-office Zoom!® whitening procedures utilize high-powered bleaching agents to penetrate the dental enamel and significantly reduce signs of yellowing and staining. In addition, we offer advanced take-home whitening kits that are uniquely customized for an individual's teeth.
Porcelain Veneers
Some patients have teeth that are so severely discolored or stained that an alternative to professional teeth whitening treatment may be the more ideal option. Porcelain veneers can be a great solution, especially for specific teeth that are significantly stained. A porcelain veneer is a custom-designed tooth restoration that essentially "hides" the stain. Veneers fit only over the front and sides of the tooth, and they are color-matched to surrounding teeth to create a natural blend.
Both teeth whitening and porcelain veneers can be terrific options on their own, or they can be added to a comprehensive Smile Makeover treatment plan to produce a completely renewed smile. If you are concerned about the appearance of yellowness or other stains on the teeth, just know that there are very popular treatments available that are precisely designed to address these concerns. To learn more, or to schedule an appointment here at our office, please contact us today.