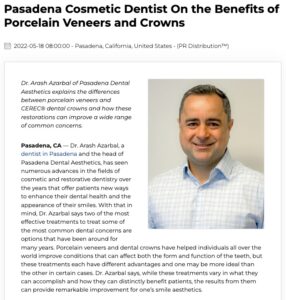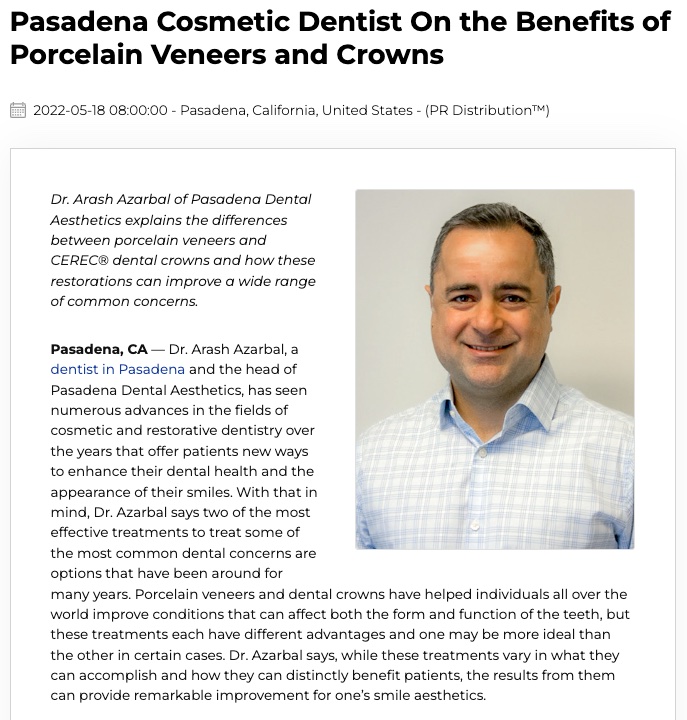 Dr. Arash Azarbal of Pasadena Dental Aesthetics explains the differences between porcelain veneers and CEREC® dental crowns and how these restorations can improve a wide range of common concerns.
Pasadena, CA — Dr. Arash Azarbal, a dentist in Pasadena and the head of Pasadena Dental Aesthetics, has seen numerous advances in the fields of cosmetic and restorative dentistry over the years that offer patients new ways to enhance their dental health and the appearance of their smiles. With that in mind, Dr. Azarbal says two of the most effective treatments to treat some of the most common dental concerns are options that have been around for many years. Porcelain veneers and dental crowns have helped individuals all over the world improve conditions that can affect both the form and function of the teeth, but these treatments each have different advantages and one may be more ideal than the other in certain cases. Dr. Azarbal says, while these treatments vary in what they can accomplish and how they can distinctly benefit patients, the results from them can provide remarkable improvement for one's smile aesthetics.
Porcelain Veneers
Dr. Azarbal explains that porcelain veneers are often an ideal solution for teeth affected by chips, gaps, or deep stains that are compromising the overall look of an individual's smile. They can also be effective for mild cases of misalignment, as well as for teeth that may appear too short or worn down. Composed of a thin but durable porcelain material, these dental veneers are custom-designed to fit over the front and sides of the affected teeth and characterized to color-match surrounding teeth, enabling them to conceal aesthetic concerns with results that look natural. Dr. Azarbal says these tried-and-true conservative restorations can have a significant effect on the overall appearance of a person's smile, giving it a healthier and more uniform look.
Porcelain Dental Crowns
While porcelain veneers are primarily geared toward conditions that are cosmetic in nature, porcelain crowns are often recommended for patients who have concerns that may be negatively affecting dental function and health. Dr. Azarbal notes that, unlike porcelain veneers, dental crowns are designed to fit over the entire tooth rather than just the visible parts of it. Crowns can be more ideal for patients who have teeth that are severely damaged, decayed, or structurally compromised in some way. With a dental crown, Dr. Azarbal says the affected tooth can be equipped with additional reinforcement and protection that can reduce the chances of further damage and deterioration. Plus, since the crown is customized to provide the best fit and appearance possible, it offers patients the added benefit of aesthetic restoration, as well. Additionally, Dr. Azarbal says technology has advanced so much over the years that he is able to provide many patients with options such as CEREC® dental crowns, which can be designed, manufactured, and securely placed on the teeth in just one office visit.
Dr. Azarbal explains that, even among individuals who take exceptional care of their teeth on a regular basis, accidents can happen and teeth can still be affected by natural wear and tear, the development of decay, staining agents in foods and beverages, and other factors. Porcelain veneers and dental crowns are two of the most common treatment options to address those types of concerns. He also notes that, with the proper care, the benefits of these cosmetic and restorative dental care options can continue many years into the future. For individuals who may be considering treatments like porcelain veneers or dental crowns, Dr. Azarbal says an initial consultation with an experienced dentist can provide a thorough oral evaluation to determine which option may be best for their unique needs and goals.
About Arash Azarbal, DDS
Dr. Arash Azarbal has been a practicing dentist for over two decades. As the head of Pasadena Dental Aesthetics, Dr. Azarbal offers a comprehensive selection of cosmetic, general, and restorative dentistry procedures designed to help patients maintain and improve their oral health, dental function, and smile aesthetics. Dr. Azarbal has completed extensive training and education in a variety of oral health and dental fields, including orthodontics, sedation dentistry, and sleep apnea treatment. He earned his Doctor of Dental Surgery degree from the University of Southern California and continued with advanced training from the Aesthetics Continuum at the UCLA School of Dentistry and the Eubank Institute for Smile Design and Advanced Occlusion. Dr. Azarbal is available for interview upon request.
For more information about Dr. Azarbal and his practice, please visit pasadenadentalaesthetics.com and facebook.com/pages/Pasadena-Dental-Aesthetics-Arash-Azarbal-DDS/155437344496718.
Contact:
Pasadena Dental Aesthetics
826 Union St.
Pasadena, CA 91101
(855) 768-7333 (New Patients)
(626) 793-4683 (Main Number)
Rosemont Media
(800) 491-8623
www.rosemontmedia.com