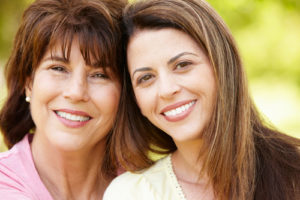 Veneers can be one of the best ways to address a number of cosmetic dental concerns, but what's the difference between composite veneers and porcelain veneers? Composite veneers, which are also known as prep-less and "chairside" veneers, sound to many like the better option—they only require one visit and are often more affordable than their porcelain counterpart. But is this always the case? Dr. Arash Azarbal, our extensively trained dentist, explains that there are many differences between the two options, and the right one for you will depend on several factors.
Composite veneers are a more conservative option; they take less time to complete; and they are generally more cost-effective than porcelain veneers. However, they should be used with patients who have relatively mild cosmetic concerns. Chairside veneers last a shorter amount of time, usually five to seven years. Porcelain veneers often last 10-15 years or even longer. The occasional maintenance needed for composite veneers may eliminate the cost savings over time. Porcelain veneers are longer-lasting and the color is more stable, and they can also offer more extensive smile improvement. Porcelain veneers are considered to be the gold standard for addressing multiple aesthetic concerns such as gaps, stains (particularly tetracycline stains), cracks, and irregular tooth size and shape.
Ultimately, the right option for you will vary depending on these factors and others. Your needs and goals are unique, which is why we customize every procedure to best suit you.