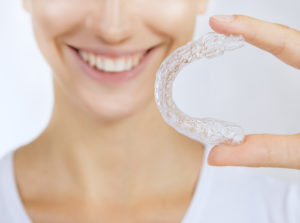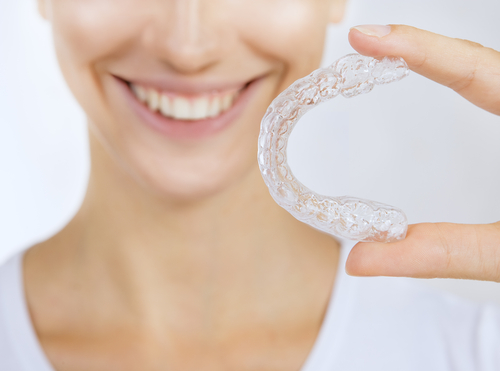 A revolutionary way to straighten crooked, misaligned, and crowded teeth, Invisalign® can provide inconspicuous smile enhancement for many patients. But with so many types of orthodontic appliances available, why is this method so popular? Invisalign® utilizes an innovative approach that can make teeth straightening a faster, more comfortable experience. Dr. Arash Azarbal, our experienced dentist, will explain the details unique to your needs and goals during your initial complimentary consultation. If you decide Invisalign® may be right for you, we can help.
Unlike traditional braces, which require metal or ceramic brackets to be bonded to your teeth, Invisalign® works by adjusting the position of your teeth via a series of clear aligner trays. When you arrive for your initial complimentary consultation, Dr. Azarbal will determine if Invisalign® is right for your dental needs and desired outcome, and if so, he will take a mold of your teeth. The mold will then be translated into a digital image, which will be used to create a set of custom-made aligner trays. Each tray will gradually move your teeth a little closer to the end result. You will wear the removable aligner for about two weeks before graduating to the next tray in the series.
By utilizing the most advanced computer-aided technology available, Invisalign® reduces the risk of over- or under-correcting. As long as you wear the aligners as instructed, you can achieve beautifully straight teeth in less time than conventional methods typically would allow.
Invisalign® has numerous benefits. To find out if this teeth-straightening technique may be right for you, contact our office today. We can answer your questions or help you schedule a complimentary consultation with Dr. Azarbal.