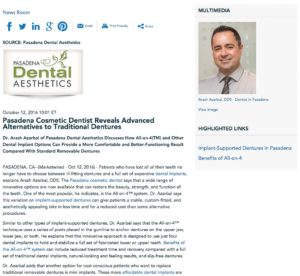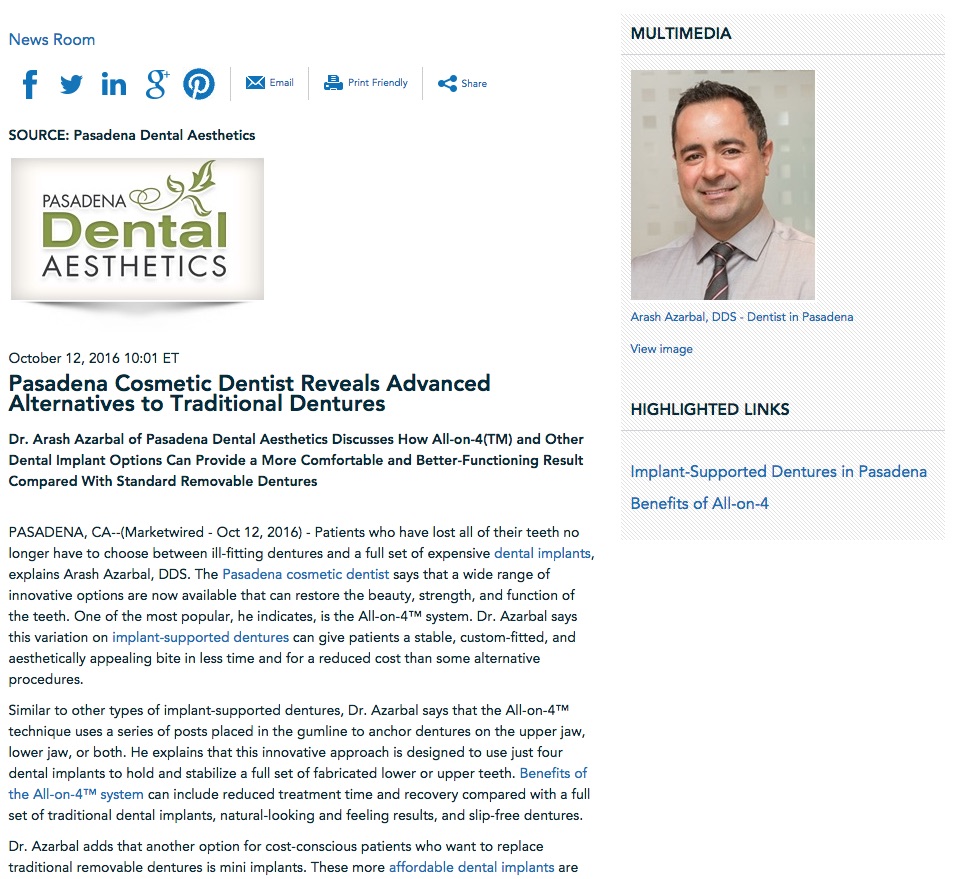 Dr. Arash Azarbal of Pasadena Dental Aesthetics discusses how All-on-4™ and other dental implant options can provide a more comfortable and better-functioning result compared with standard removable dentures.
Pasadena, CA — Patients who have lost all of their teeth no longer have to choose between ill-fitting dentures and a full set of expensive dental implants, explains Arash Azarbal, DDS. The Pasadena cosmetic dentist says that a wide range of innovative options are now available that can restore the beauty, strength, and function of the teeth. One of the most popular, he indicates, is the All-on-4™ system. Dr. Azarbal says this variation on implant-supported dentures can give patients a stable, custom-fitted, and aesthetically appealing bite in less time and for a reduced cost than some alternative procedures.
Similar to other types of implant-supported dentures, Dr. Azarbal says that the All-on-4™ technique uses a series of posts placed in the gumline to anchor dentures on the upper jaw, lower jaw, or both. He explains that this innovative approach is designed to use just four dental implants to hold and stabilize a full set of fabricated lower or upper teeth. Benefits of the All-on-4™ system can include reduced treatment time and recovery compared with a full set of traditional dental implants, natural-looking and feeling results, and slip-free dentures.
Dr. Azarbal adds that another option for cost-conscious patients who want to replace traditional removable dentures is mini implants. These more affordable dental implants are 1/3 the diameter of the traditional models and can be an effective treatment in certain cases. The Pasadena cosmetic dentist encourages patients considering replacing their dentures to discuss their concerns and goals with an extensively trained dental professional to determine the best option for their needs.
While there are many state-of-the-art techniques to restore the smile after losing all of one's teeth, Dr. Azarbal cautions patients to choose the treatment that offers the best outcome for their unique characteristics—rather than the most cost-effective one. He says the ideal approach should provide long-lasting results that are more affordable in the long run than a procedure that is not appropriate for the individual's anatomic indicators. He adds that an experienced dentist will collaborate with the patient to find a solution that works well for that person's lifestyle, budgetary concerns, and other factors.
About Arash Azarbal, DDS
Dr. Arash Azarbal is a general, restorative, and cosmetic dentist with a private practice in Pasadena, CA. He earned his undergraduate degree from the University of California, Los Angeles, where he graduated cum laude, and his Doctor of Dental Surgery degree from the University of Southern California. In addition to being a certified Level 2 Invisalign® Premier Provider, Dr. Azarbal has completed additional training at the Aesthetics Continuum at the UCLA School of Dentistry and the Eubank Institute for Smile Design and Advanced Occlusion. He previously served as an instructor in Dental Morphology, Function, and Esthetics (DMFE) under Dr. Pascal Mange. Dr. Azarbal is available for interview upon request.
For more information about Dr. Azarbal and his practice, please visit pasadenadentalaesthetics.com and facebook.com/pages/Pasadena-Dental-Aesthetics-Arash-Azarbal-DDS/155437344496718.
Contact:
Pasadena Dental Aesthetics
826 E. Union St.
Pasadena, CA 91101
(855) 768-7333 (New Patients)
(626) 793-4683
Rosemont Media
(858) 200-0044
www.rosemontmedia.com