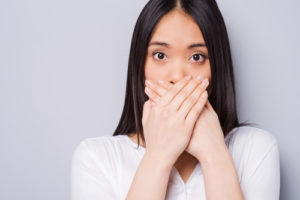 Without your smile you may not feel like yourself. Fortunately, replacing missing teeth is easier and more successful than ever with the latest procedures. Dr. Arash Azarbal utilizes advanced techniques and technology to deliver exceptional results, tailoring each program to best suit the individual needs and goals of the patient. If you're looking for tooth replacement options, you now have more choices than ever before.
Dental Implants
One-to-one dental implants can offer a beautiful, functional result that looks and works just like your natural teeth. Dental implants are considered the number one recommended approach for missing teeth.
Fixed Bridge
A fixed bridge is another popular procedure used to replace missing teeth. It is a non-removable, or fixed, option that is cemented in like a single crown. It is basically a crown placed over the missing tooth or teeth that is attached to adjacent crowns, which are cemented on those teeth. It generally has a good long-term outcome granted the adjacent teeth or anchor teeth are strong. Also, with all-porcelain material, the outcome is very aesthetic-appealing.
Mini Dental Implants
Some patients may benefit from using mini dental implants in specific situations. Mini implants work similarly to full-size dental implants but with a smaller footprint and support that provide a less involved, and therefore less expensive, surgical procedure.
Implant-Supported Dentures
Other popular options are All-on-4™ and implant dentures, which use four or six dental implants to secure a denture appliance. This provides improved fit and function compared with traditional dentures at a lower price point than a full set of dental implants.
Traditional Dentures
Traditional complete or partial removable dentures are commonly used replacements for missing teeth. While affordable, this approach may present problems over time as your bite force is significantly reduced, and the fit can decline and cause discomfort and chafing. Traditional dentures will need to be replaced at some point, so the cost is often comparable to longer-lasting options in the long run.
We can help you determine which restorative treatment provides the best selection of benefits for your desired outcome. Talk to us today to learn more.