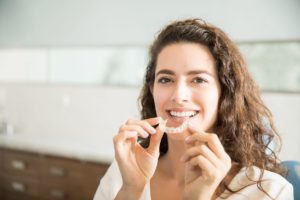 One of the most common reasons why adults and adolescents alike may think twice about orthodontic treatment is the possibility of noticeable metal braces making the process aesthetically unbearable. Fortunately, numerous advances in both orthodontics and cosmetic dentistry have provided more choices among treatment options—choices that are designed to improve the appearance of misaligned teeth by utilizing techniques that are much more discreet when compared to traditional braces.
Dr. Arash Azarbal and our team at Pasadena Dental Aesthetics offer two effective options that can give the teeth a straighter look without the need for prominent brackets and wires on your teeth:
Invisalign®
One of the most revolutionary orthodontic treatments available, Invisalign® can improve signs of gaps and spaces between the teeth, crowding, general misalignment, and even mild bite irregularities. Invisalign® does not use braces to shift the teeth into a straighter position; instead, this procedure involves a series of removable aligners that are composed of a translucent plastic material. When the aligners are placed on the teeth, they are virtually invisible.
Porcelain Veneers
While porcelain veneers are not specifically geared toward correcting orthodontic concerns, this treatment can be a good option for "hiding" prominent signs of spaces, gaps, and certain degrees of teeth misalignment. Porcelain veneers are custom-designed tooth restorations that can fit over the front part of the teeth in order to present a straighter, healthier dental aesthetic. The veneers are precisely made to look and feel like natural teeth. In addition to their cosmetic benefits, porcelain veneers do not require months or even years of orthodontic treatment. In fact, this option can allow many patients to have straighter-looking teeth in just a couple of office visits!
If you would like to learn more about discreet orthodontic treatment at our practice, please contact us today. Our dentist can evaluate your needs and determine whether these options are ideal for your ultimate goals.