About Dr. Azarbal
"There is no moment more exciting than when a patient's new smile is revealed (even in the beginning of a smile makeover) and the patient gets a glimpse of how he or she will look." – Dr. Arash Azarbal
Dr. Arash Azarbal received his degree as a Doctor of Dental Surgery (DDS) from the Herman Ostrow School of Dentistry at the University of Southern California (USC) in 2002. After graduation, he completed his general practice residency with the New York Department of Veterans Affairs. Before attending dental school at USC, Dr. Azarbal completed his undergraduate studies at UCLA and graduated with honors (cum laude) with a Bachelor of Science degree in Psychobiology.
In addition to his general dentistry education, Dr. Azarbal has received advanced certification and training in cosmetic dentistry. He completed the Aesthetics Continuum at the UCLA School of Dentistry, as well as several advanced continua at the Eubank Institute for Smile Design and Advanced Occlusion. Dr. Azarbal is a certified Level 2 Invisalign® Premier provider. He is an active member of the San Gabriel Valley Dental Society chapter of the California Dental Association. Furthermore, Dr. Azarbal has served as an Adjunct Clinical Assistant Director at the Herman Ostrow School of Dentistry of USC, in the Division of Restorative Sciences. From 2013 to 2015, he was an instructor in Dental Morphology, Function, and Esthetics (DMFE), where he worked under Dr. Pascal Mange, world-renowned professor and one of the fathers of biomimetic dentistry.
Dr. Azarbal is outstanding. I had quite a bit of work done and experienced almost no pain. Not to mention I am constantly getting compliments on my smile. If you need dental work, it is worth the trip Pasadena for a pleasant, professional and better than expected results.

LaShawn Cullins

December 01, 2015

12345
Dr. Azarbal's Dental Philosophy
Dr. Azarbal loves the profession of dentistry and is constantly striving to advance his knowledge and training in dentistry. He is continuously striving to keep up with the latest advances in the field. Every year he participates in numerous multi-day continuums that include training in cosmetic and restorative dentistry, and orthodontics and sedation dentistry.
Dr. Azarbal uses a conservative approach to imitate ideal natural dentition in form, function, and aesthetics using appropriate design and material. When restoring teeth it is important to try to conserve the areas that provide the core structural strength. If that is not possible, then the natural design is imitated using the correct materials with an understanding of how forces act on them. It is therefore, extremely important to understand natural morphology and properties, how dental materials and design correlate to them, and to do it in an aesthetically beautiful manner (as different types of composites and porcelains can have significantly different properties).
Cosmetic and restorative work is particularly satisfying to Dr. Azarbal. He really enjoys restoring and bringing the dentition and the mouth back to health—both aesthetically and in function—and maintaining it there.
In his spare time, Dr. Azarbal enjoys running, and he occasionally runs the Los Angeles marathon. He also enjoys watching sports, particularly baseball and football, and playing golf occasionally.
Education and Training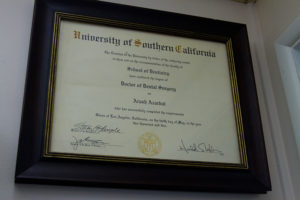 USC Herman Ostrow School of Dentistry – Instructor in Dental Morphology, Function, and Esthetics (DMFE) (2013-2015)
USC Herman Ostrow School of Dentistry – Adjunct Clinical Assistant Director – Division of Restorative Sciences (2013-2015)
Certified Level 2 Invisalign® Provider
Eubank Institute for Smile Design and Advanced Occlusion – Continuing Education
University of California, Los Angeles School of Dentistry – Aesthetics Continuum
New York Department of Veterans Affairs – General Practice Residency
University of Southern California – Herman Ostrow School of Dentistry – DDS
University of California, Los Angeles – Bachelor of Science, Psychobiology, (with honors)
Memberships and Affiliations
Adjunct Faculty at USC Herman Ostrow School of Dentistry
American Dental Association
California Dental Association
San Gabriel Valley Dental Society