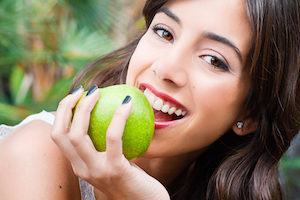 You want a smile that's beautiful, healthy, and functional, and at Pasadena Dental Aesthetics, we believe the best way to achieve your goals is to utilize a conservative approach. Dr. Arash Azarbal, our extensively trained dentist, emphasizes state-of-the-art techniques that can optimize your outcome while minimizing the need for treatment that could compromise your natural tooth structure or gums. The functional benefits of our methods are numerous, and we believe you will enjoy not only improved health but also a better in-office experience as a result.
One of the primary benefits of conservative dentistry is the focus on preserving existing tooth structure and providing treatment that mimics ideal natural dentition in form and function. This is called the bio-mimetic approach. An example would be utilizing a thin porcelain onlay rather than placing a crown on the back teeth when possible, which can conserve up to 75 percent of the enamel and tooth structure. This is accomplished with targeted treatment that will remove only compromised tooth structure to achieve the intended result. A secondary effect, and just as important, is that this can help to limit procedural time and discomfort, as more advanced treatment may take longer to complete and require more invasive techniques. Additionally, by using all porcelain material, and with careful placement of margins in relation to the gums, we can ensure healthier gums both functionally and cosmetically.
When function is maintained or restored successfully, the results probably won't jump out at you. In fact, they shouldn't be "noticeable" day-to-day at all. You should just be able to use your mouth naturally. Our goal with conservative dentistry is to ensure you can smile, speak, eat, drink, and enjoy life with comfort and have healthy teeth and gums for life.
Want to learn more about conservative dentistry and how this approach can benefit you? Contact us today to schedule an appointment with Dr. Azarbal or to receive additional information about our treatment methods.