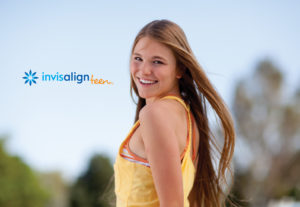 You may already be familiar with Invisalign®. This innovative teeth straightening system is often faster, more comfortable, and much less noticeable than traditional braces. But do you know about Invisalign® Teen? Our skilled dentist, Dr. Arash Azarbal, offers both options at our state-of-the-art dental practice, and we can help you determine which method is right for you during your initial consultation.
In the simplest terms, original Invisalign® is designed for adults who have all their adult teeth. Invisalign® Teen, as the name suggests, is for younger patients who have most, if not all, of their adult teeth. Both approaches straighten teeth using a series of clear, removable aligner trays; however, Invisalign® Teen was created with the unique needs, goals, and preferences of teens in mind. We can help you determine if you're an ideal candidate for Invisalign® during your first appointment.
If you're between the ages of 13 and 19 and have crooked or crowded teeth, Invisalign® Teen may be right for you. If you're over the age of 19 with the same concerns, Invisalign® will be a better option. Regardless of the selected approach, Invisalign® can help you achieve straighter teeth and a beautiful smile without the metal brackets and wires associated with traditional braces.
For more information about Invisalign® and Invisalign® Teen, contact us today. Our friendly and knowledgeable team will be happy to answer your questions and help you schedule a consultation.